---
This series of murals was created with the support of the John S. and James L. Knight Foundation.

The Knight Arts Challenge Detroit seeks to draw the best and most innovative ideas out of local organizations and individuals seeking to engage and enrich the community through the arts. For the 2015-2017 granting period, 57 winners were chosen to bring high-quality art experiences into Detroit's neighborhoods. Among them, we were awarded a grant to create murals featuring Mexican culture in Southwest Detroit. These murals feature famous characters from Mexican popular culture— characters recognized and appreciated by many people in the Latino community—to build a bridge between the community and their heritage through art.


For this mural we wanted to highlight the business name Nuevo León, which is named after a northern state in Mexico. The most important city from Nuevo León is Monterrey. Here is the landscape from Monterrey, as well as popular icon from Nuevo León, Piporro, and the original woman who started the business more than 50 years ago.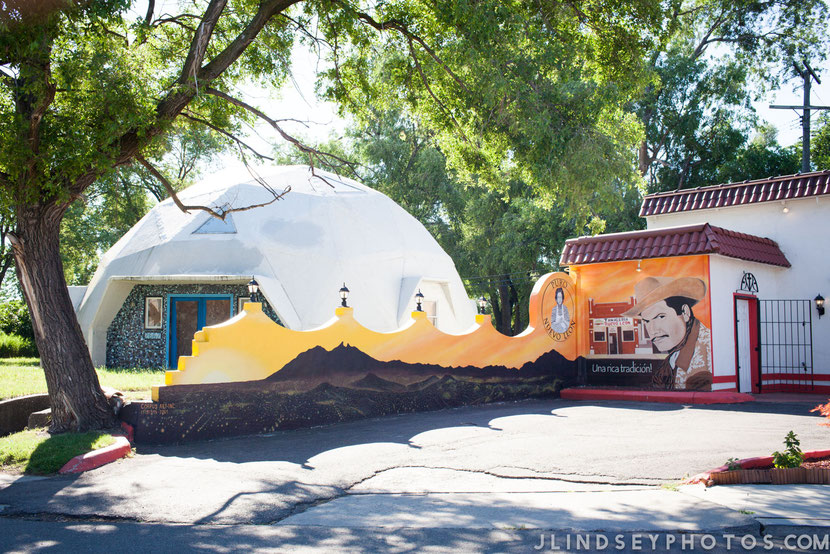 ---
Large mural created with the support of the Knight Foundation, E&L Supermercado, and Hacienda Mexican Foods showing a festive Cinco de Mayo parade and featuring Pedro Infante, the most iconic ranchero singer in Mexico, and prominent community members' portraits.
Detroit, MI.




---
This mural was created with input from the community and the support of Jesse E. Venegas from Ideal Group for a performing arts and cultural center located in Southwest Detroit. The design includes famous landmarks and members of the Mariachi Femenil group hosted at the center.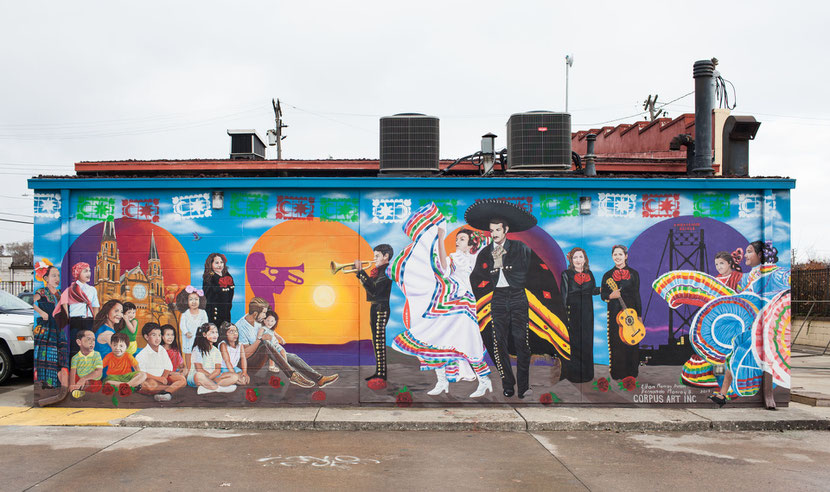 ---
This indoor mural shows the annual Heritage Days event in Southgate, MI.
Painted on 5 panels (8x20 feet total) for Kroger Marketplace.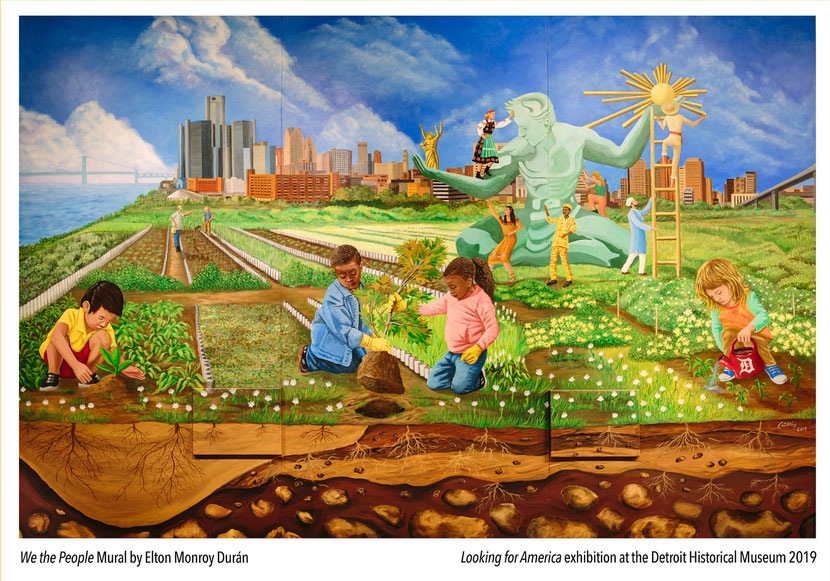 ---
This Indoor mural depicting the story of Tenochtilan, present-day Mexico City.
Los Amigos Restaurant, Muskegon, MI.



---
This design combines elements of Earth, plants and seeds as part of the natural cycle. Organic wavelengths in the background are reminiscent of the curves of the human soul (aura) as well as layers of the Earth's crust. Chosen in a mural contest for Detroit Vegan Soul in Grandmont Rosedale, and painted with the help of students from three local high schools.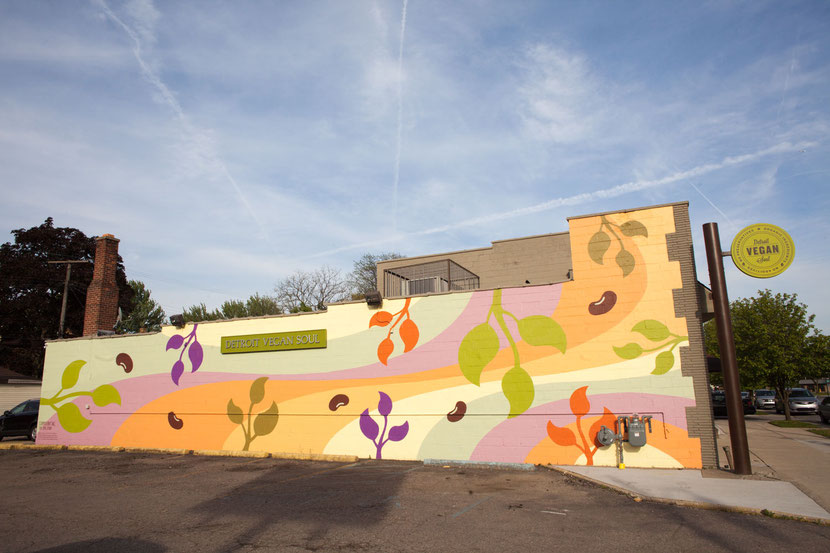 ---
This mural was created for the Grandmont Rosedale Development Corporation's cooperative work space called the WorkPlace, located at: 19120 Grand River Ave, Detroit, MI 48223. It was part of a contest and selected by community members. It is part of a larger community public art project that includes a permeable ground surface, garden and gazebo.
When designing the mural, we spoke with community members to find out what they would like to see in a mural. They said they wanted to "bring back the roses to Rosedale." They also wanted to see something colorful and vibrant. The mural concept also shows the idea of technology working in harmony with nature.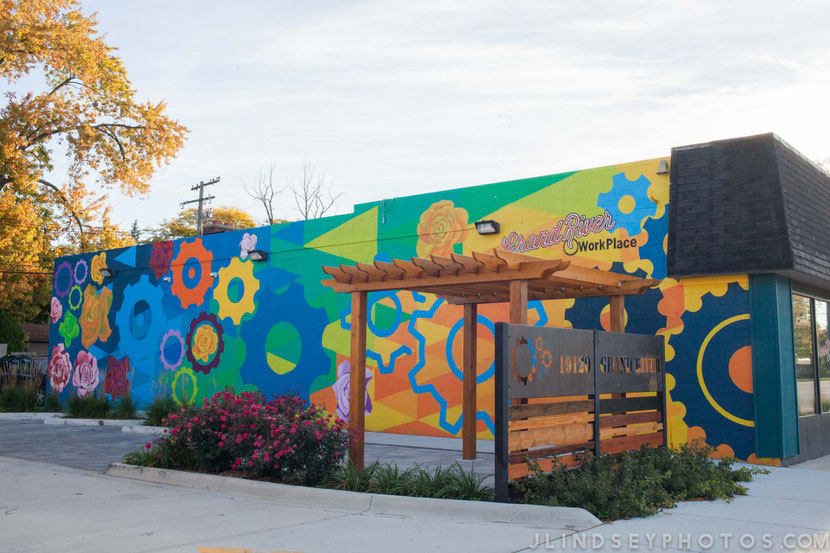 ---
I have been painting customized murals in order to continue and keep going with my purpose of being an artist. Many of my customers are from the Latino community. I enjoy supporting this minority and connecting with our heritage. It is also a way to share part of our culture with the people here in the United States. This Mural was created for "Las Cazuelas Mexican Grill", located at: 25290 Evergreen Rd, Southfield, MI 48075.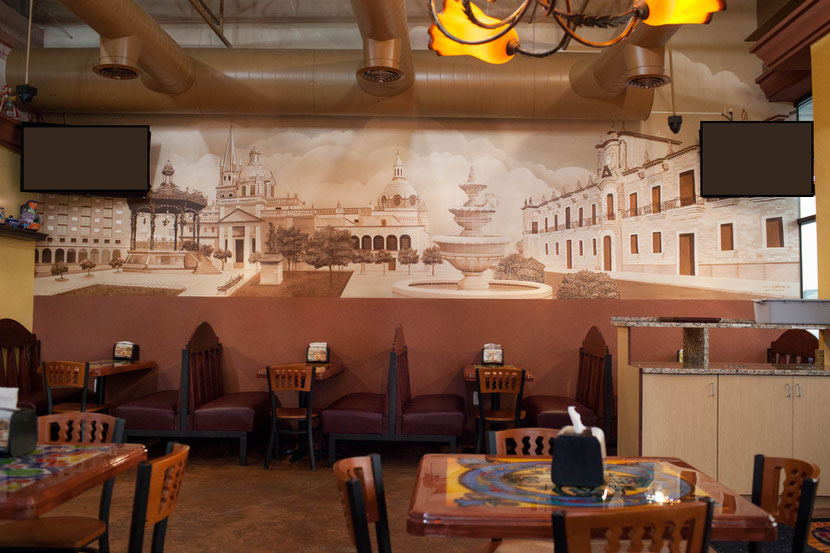 ---
This painting is inspired by children who are dealing with a chronic degenerative illness or waiting for an organ transplant. The mother of a child living in Michigan who needs a kidney transplant reached out to me. Oakley's story inspired me to create this painting to raise awareness of this need. This painting features a child that is sleeping, covered with a blanket made out of all the dreams these children have. To paint these dreams, I used drawings collected from other parents of these children and the Hildago State Transplant Center in Mexico. It is curious that these drawings are actually the same drawings that every child makes. It is because actually, they are like any other child. The only difference is that they are fighting an illness. All of these dreams are about the future—what they want to be when they grow up or what they want to achieve in their lives. The difference is that if they don't receive an opportunity, they might not be able to make these dreams come true.

---
While I was exhibiting the Blanket of Sweet Dreams in Art Prize 2015, a business owner near Grand Rapids found out about my work and contacted me to paint three murals inside the new Lindo Mexico restaurant location at 1742 28th St SW, Wyoming, MI 49519. She wanted the murals to feature Mexican popular cultural icons. 
This design features the two most famous fighters in Mexican culture. One is El Santo and the other is Blue Daemon. They are a duality—one is good and the other is bad. It speaks about the good and bad things in life. I created this composition with them ready to fight. I included the popular Mexican saying "There is no worse fight than the one that is never fought." The intention of this mural is to inspire people to keep going. To never give up. To always be ready for fighting for the things that they want. The idea of not losing hope also relates to my work inspired by organ donation.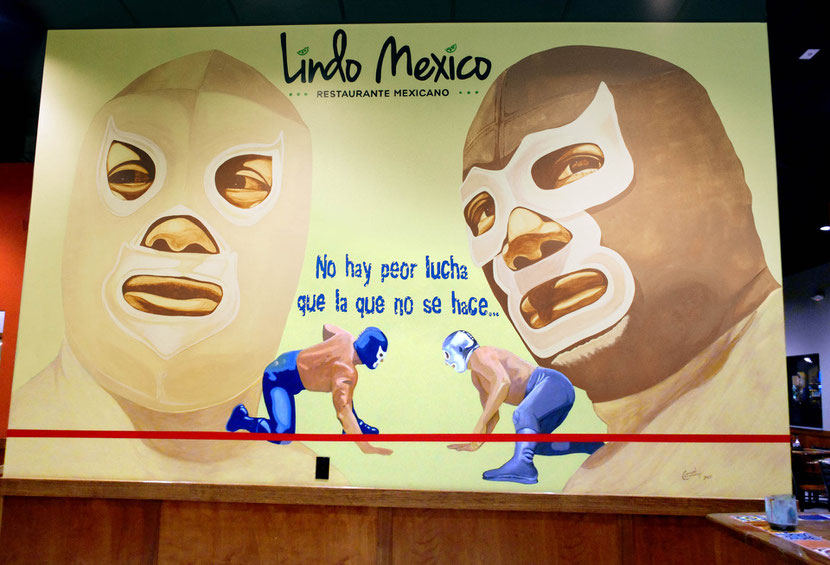 ---
This is another mural from the indoor mural series near Grand Rapids. This one is a good example of how I design the murals in consideration of the space. For example, this wall was in a very narrow area filled with tables and chairs next to a bar in a restaurant. The idea I had was to create an extension of the bar and generate a more festive atmosphere, like a Mexican party. The result is the illusion of a larger area. Also, if people take a selfie while sitting at the bar, they will notice that it looks like they are sitting with these popular icons.
These are popular singers and actresses from the Golden Age of the Mexican cinematography, including Pedro Infante, Maria Felix, and Jorge Negrete. The films they are featured in make a portrait of Mexican popular culture—their values and imagery. They are inspiring for many people, not just in Mexico, but in many Latin American countries.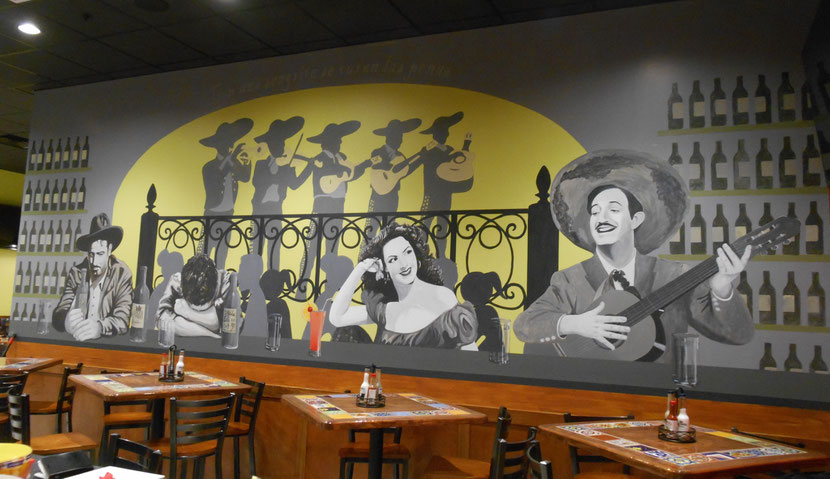 ---
When I was exhibiting that piece of art in Grand Rapids, the owner of a very popular Mexican restaurant in Grand Rapids contacted me and asked me to paint three large murals inside their new building location. They wanted the murals to feature Mexican popular icons. That was very interesting because at the same time, I was receiving the news that I had been awarded with a grant from the Knight Foundation to paint six large murals in the Southwest Detroit area featuring popular icons from Mexican culture. This is the Mural painted for the entrance, it features "Cantinflas" a worldwide known Mexican comedian.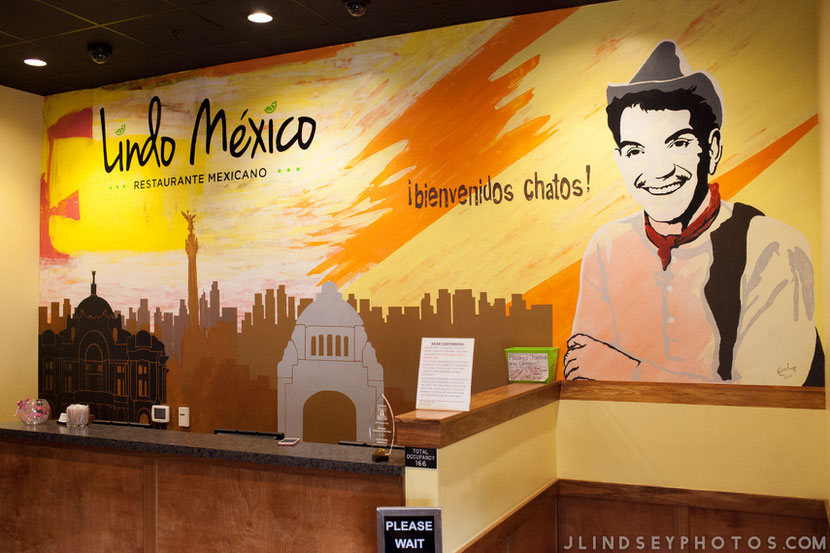 ---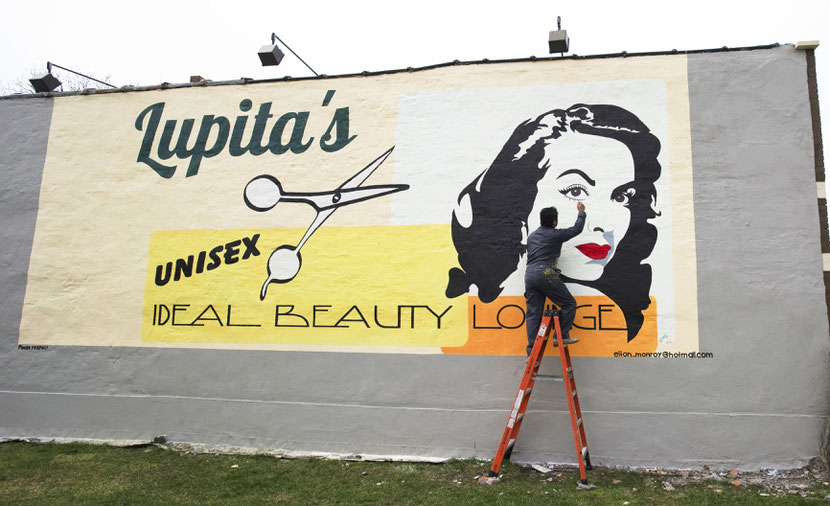 ---